Please click picture for details and ordering info.
Pursuit s510 True Forged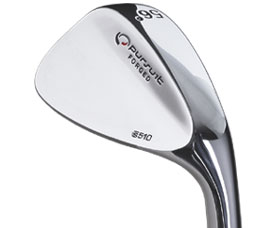 Product Description:
The Pursuit s510 scoring wedge is manufactured using a true 5 step high pressure forgoing process that compacts the carbon steel molecules close together for exceptional feel and control. No manufacturing step is compromised. No players feature missing. A finest Quality True Temper Feather Flight shaft and a Golf Pride Dual Durometer grip complete the story.
NOTE: The below price includes custom fitting (where applicable)
plus
free shipping within the continental US (if the order is over US$99).
In addition this club not only carries a one year warranty but comes with a 30 day satisfaction guarantee - even after you have customized it. Simple: if you don't like the club - even after you have played it - simply return it for your money back.
Online ordering is 100% safe due to the advanced technology used - this technology is tested daily by an independent party.