Please click picture for details and ordering info.
GX Squared Fairway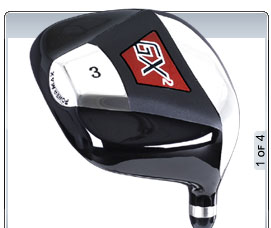 Product Description:
Square design reduces twist on impact resulting in a longer straighter ball flight. From fairway or tee box, these attractive fairway models blend todays top design technology with a classic profile and set-up. From the construction side, only the best materials were chosen to manufacture our GX2 fairway clubs. 17-4 stainless steel is used in the crown and sole for a strong lightweight body. The face is forged in Carpenter 455 for a thin powerful face. The best configuration for most golfers is an <B>UST<-B> HDX 70 high density composite graphite shaft and a VX grip.
NOTE: The below price includes custom fitting (where applicable)
plus
free shipping within the continental US (if the order is over US$99).
In addition this club not only carries a one year warranty but comes with a 30 day satisfaction guarantee - even after you have customized it. Simple: if you don't like the club - even after you have played it - simply return it for your money back.
Online ordering is 100% safe due to the advanced technology used - this technology is tested daily by an independent party.